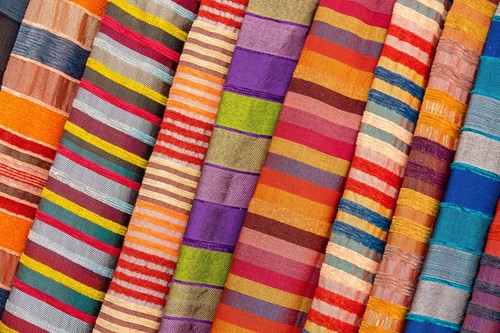 If you need to give a space a style boost, switching up fabrics can be a great place to start. There are lots of DIY projects you can use to add new colors, textures and prints to any space. However, if you don't have a sewing machine or sewing experience, the thought might seem daunting. Luckily there are several ways you can craft with cloth without a sewing a single stitch. Here we've gathered some great no-sew DIY projects to try.
No-Sew Panel Curtains
Making your own window dressings doesn't get any easier than no-sew curtains. With careful measuring and fabric tape or fabric glue you can turn a few yards of plain fabric into custom curtains. You'll want to measure carefully for window size as well as add a few inches both for hems and any desired "puddling" at the bottom.
Once you have your fabric measured and cut to size, use your fabric tape or fabric glue to create a loop at the top of the curtain by folding over the fabric. Fold in and adhere the hems on the sides and bottom for a more professional look if desired. Then, simply feed the curtain rod through the loop at the top and hang. Remember that if you want extra volume and folds in your curtains, you'll want to make them larger than the window.
No-Sew Bench & Chair Cushions
If you have a chair or bench that could use a cushion upgrade, you can DIY them easily with fabric and foam. This is a great way to make a set of quick and inexpensive seat cushions for dining sets, outdoor seating and more. To start, measure the seating area of the chosen piece. You can get a piece of foam cut to size by an upholsterer or hardware store or buy in bulk and cut yourself. Regardless, take careful measurements of the foam and use those dimensions to measure your fabric. Add a few inches on each edge to wrap around the foam and stick to the bottom.
While regular fabric tape or fabric glue will work for creating hems and sticking fabric together, make sure you have the correct glue to adhere properly to foam. Then, simply wrap the fabric tightly around the foam piece and attach to the bottom. For an easily washable option, you can use double the amount of fabric to create DIY slipcovers. These you can easily remove from the foam piece for easier washing, drying and fabric changes.
Both of the above DIY projects are inexpensive and great no matter the skill level. They're also useful for indoor and outdoor spaces, provided you have the right fabric. You can use the same curtain plan to add privacy curtains to a porch or pergola. Foam cushions make excellent additions to hard seating and can even provide extra comfort for sitting on the ground. Making your own fabric panel curtains or cushions is a great way to try out new colors, textures and patterns without committing to expensive new furnishings.