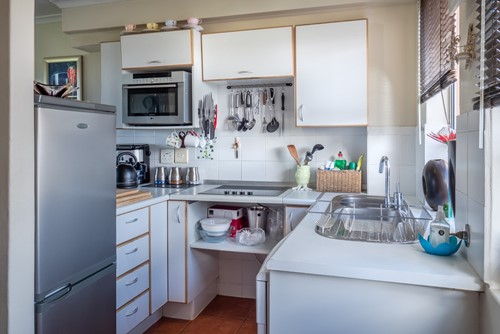 If you're looking for ways to make a small kitchen seem bigger, it's as simple as making strategic decoration decisions. Knowing how best to use the space and avoid clutter in a small room of any kind is a challenge. For a kitchen it can be especially difficult because of high traffic, the number of appliances and more. Here are some simple tips to help you maximize your kitchen space:
Maximize Your Shelving
You can double the capacity of existing cabinets by adding interior shelving. The best part is that you can purchase removable shelving components to fit right into the cabinet without the need to break out the power tools. This can instantly make storing dishes, cookware and even food items much easier. You can use them on open shelves instead of cabinets as well. Add a foldable shelf to your existing wall shelves or in your pantry and enjoy the customizable extra storage.
Use Windows & Wall Space
It's crucial to use every bit of space as possible when trying to fit everything into a small kitchen. One way to do that is so use your kitchen window as well. Try mounting shelves in or in front of the window frame for bright and stylish storage. You can also add hooks to the bottom of the shelves to hang mugs, cooking utensils or cleaning products.
Another great way to put your wall space to work is with magnetic strips. Adding some heavy duty magnets to the wall lets you store knives and even some lightweight cookware vertically—no shelves needed. You can find and purchase adhesive magnets at any hardware store in a variety of shapes and sizes. Get creative and you might find that there are a plethora of objects you can store simply by sticking them to the wall.
Try a Rolling Kitchen Cart
A kitchen island is the dream for many homeowners, but for those with tiny kitchens this dream is seldom a reality. However, by investing in a rolling kitchen cart, you can mimic the look of a kitchen island and get the same functionality. As long as you use a cart that has stoppers on the wheels you can use the surface space for food prep and anything more you might need extra counter space for. You can also store many items underneath, either on shelves, in attached baskets or drawers, depending on the style of cart. Add a small bar around the entire thing to hang dish towels anywhere you might need them or attach more magnets for easy cutlery storage.
The best thing about a rolling kitchen cart is the flexibility. If you need to make more room, simply roll the cart aside. You can use it as an island or keep it against a wall for more permanent counter space. No matter what, it's a simple and economical way to add tons of storage and flexibility to a small kitchen.
These are just a few simple ways to make the best of the space in your kitchen. While these tips are great for kitchens of all shapes and sizes, they can be especially beneficial for those that feel a little cramped or that are lacking storage.