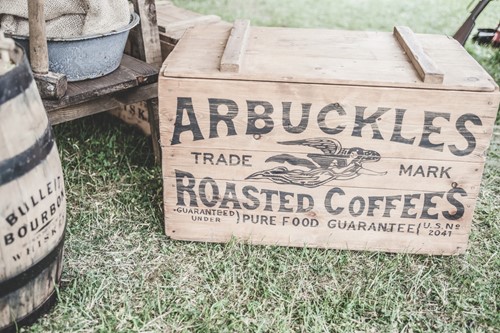 In the DIY world, certain materials and objects prove their usefulness time and time again. For DIY furnishings, one of those objects is a wooden crate. These crates used to transport produce and other cargo every day and are an excellent source of reclaimed wood and DIY inspiration. If you're looking for a wooden crate DIY project to try, consider making a bedside table that will fit a variety of design styles. Here are some ideas to get you started:
Hairpin Leg Crate Table
Hairpin legs are an essential feature of mid-century modern style furniture and go perfectly with a wooden crate. Attaching these metal legs to the side of a crate will give you storage inside and the surface on top for your table. Fill the inside with books or decorative items and top with a chic modern design lamp to dress up the unfinished wood. If you prefer, add a stain or a coat of paint to give the recycled crate new life.
You can find hairpin legs sold in sets at your local hardware store or from many online retailers. They are lightweight, inexpensive and simple to attach. They also come in many colors and finishes to fit whatever look you're going for.
Industrial "Metal" Pipe Crate Table
If you prefer an industrial style, combining a wooden crate with faux-metal pipes might be perfect for you. While you could use real metal pipes for this project, using painted PVC pipe is less expensive and doesn't require any welding or other specialized tools. After carefully sanding your crate surface and measuring, add holes for the table legs on the underside. Use a high-gloss metallic spray paint for the PVC pipes to make them look metal. For a more grungy industrial look, go for a matte finish. Attach the pipes into the holes and secure with adapter kits available from your hardware store. Now you have a sturdy statement piece for a bedside table.
Crate Stack Table
One of the simplest and most often overlooked ways to create a bedside or end table with wooden crates is simply to stack them on top of one another. Depending on the size of the crates you use, you may need 2 or 3 of them to get the right height. You could stop there—or if you want some extra security, you can attach the crates to each other using a nail gun. Paint them in a light color for farmhouse style charm or choose bright primary colors for a vibrant kids' room design. This table design also functions as a display shelf so you can show your creativity and decorating sense while getting all the functionality you need.
You can use the above projects to make end tables or even outdoor tables in addition to nightstands. With a versatile and useful piece like a wooden crate, the possibilities are endless. Try these DIY ideas today to bring some handmade decor into your lifestyle.